Trevor Story's arrival in Boston made major headlines this week, but it did not shift the team's position in Vegas. Sharps are still high on the Blue Jays, Yankees, and Rays, with Boston as heavy underdogs at +600 to win the division.
Boston's position in the American League East future was as +400 at one point, but an early injury to Chris Sale caused the team to plummet. It was announced that Sale would miss Opening Day due to a rib injury last week, which caused a scare in the market.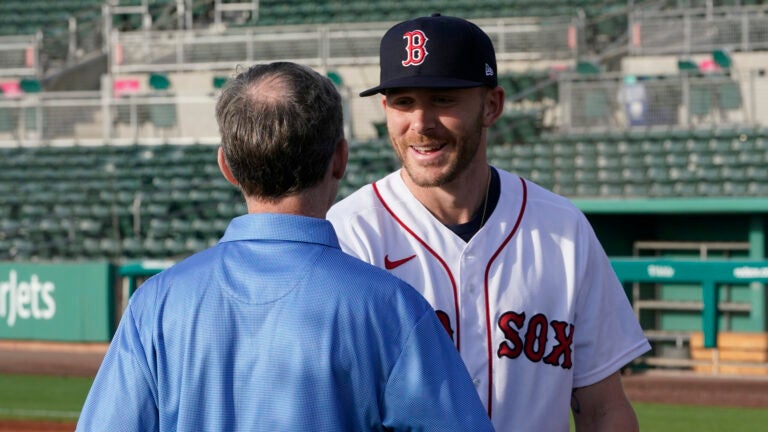 Sale was a reputable ace until his UCL injury two seasons ago. The ace missed the entirety of the 2020 season after injuring his arm in 2019. Sale returned in 2021 and threw 42.2 innings, but his inconsistency was on full display throughout his time on the hill.
An early injury to Sale depletes an already weak rotation. As great as Eovaldi has been, he is not a pitcher who should be anchoring a rotation in a major market.
Trevor Story Helps
Christian Arroyo was the projected starter at second base before the Red Sox landed Story. Alex Cora announced that Story would be playing second and keeping Xander Bogaerts at shortstop.
Story's signing with Boston shows how much he wanted to play in Beantown. The former Colorado star has been a career shortstop and not touched the right side of the diamond since Triple-A.
However, it's likely Story knew a transition to second is necessary for his career longevity as arm problems were apparent in 2021. Not throwing the ball across the diamond could be the change the 29-year-old needs to continue his upward trend through his prime years.
Chaim Bloom did not bring Story to Boston for him to win a Gold Glove. The front office felt Story was the necessary addition to the lineup for the Red Sox to make a run.
When it comes to offense, Story is a tremendous addition to a robust and well-balanced lineup. The 2011 first round pick is a two-time All-Star and Silver Slugger, who should have 35 doubles and 25 homers this season for Boston.
The best season of Story's young career came in 2018 when he slashed .291/348/.567 with 37 homers and 108 RBI. Boston's +600 AL East odds would likely hit if Story returned to his 2018 self and Sale stayed healthy.
At +600, the Red Sox have a lot of value in the betting markets. I do not believe Boston has the team to win the division, even with Story, because of Toronto's star-studded roster. Yet, it's worth sprinkling some cash on the Red Sox at +600, especially if Cora's club gets hot at the right time.
---
Join our Discord
to leave a question or comment regarding this article. We have sports fans talking betting all day — every day! JOIN THE DISCORD NOW AND QUALIFY FOR PRIZES & BETTING SWAG!
---