The COVID-19 battered Boston Red Sox have risen from the ashes once again in 2021. If you were not aware, the Wild Card runs through Boston, and this is not going to change. The squad is on a roll and will look to capture their fifth straight victory on Sunday and a series sweep against the Baltimore Orioles.
Chris Sale Shines in Game One
Chris Sale tested positive for COVID-19 after pitching against the Rays on Labor Day and was forced to quarantine at his home. He wasted little time feeling sorry for himself after his second positive test and went back to work.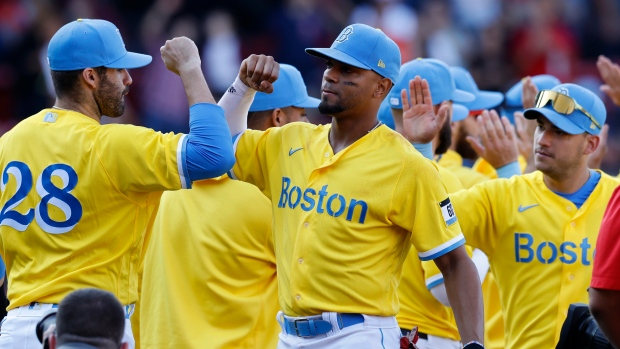 Sale borrowed a portable pitcher's mound from Babson College and used his dumbbells at his house to train. When his scheduled start occurred, Sale threw a simulated six-inning game and did not miss a beat.
Sale went five innings and allowed one earned run to stay undefeated on the season at 4-0. Austin Hays' solo homer, a missile off the Green Monster light tower, was the team's only run in Friday's contest.
After the game, Sale spoke about his time in quarantine, and his answer made it apparent why he was successful in his return.
"I stayed on my exact schedule. I didn't have the big weights, the squat rack there, or some other things. I made do. I've been in worse situations."
Alex Verdugo had three hits, and Hunter Renfroe had a three-run double for Boston. Bobby Dalbec also added a solo homer to the team's total in the fourth inning.
Even though the offense was on full display, Sale's return was the primary narrative following the win. The pitcher makes Boston a legitimate playoff threat if the team can reach the ALDS. The best part about the Red Sox is they believe they can win, and this is a dangerous quality.
Sale attested to this after the game.
"You've just got to get in. No one knows what's going to happen once those lights flick on. You catch a hot streak, and you're looking up, and you're holding a trophy."
Xander Bogaerts Delivers on Saturday Afternoon
Boston's dominant offense shined in the second game of the Orioles series, allowing the team to capture its fourth straight win. Baltimore jumped out to a 2-0 lead in the top half of the first, and the Red Sox answered with three runs of their own.
This was the case throughout the afternoon. Boston continued to pile on runs, and they consistently shut the door on the Orioles scoring dreams after the second frame.
Xander Bogaerts, Dalbec, Renfroe, and Rafael Devers all drove in runs for Boston. Bogaerts and Devers each racked up three hits on the afternoon.
Bogaerts acknowledged that the Red Sox must continue winning the day after the game.
"We all know where we are. We just have to go out there and try to continue to win games."
The Red Sox currently hold a one-game lead in the Wild Card with 12 games remaining. After Sunday's game, the Mets and Yankees will come to Fenway Park.
Boston will finish the season in Baltimore and Washington for two road series. The Red Sox control their own destiny, but it starts by sweeping Baltimore on Sunday.
---
Join our Discord
to leave a question or comment regarding this article. We have sports fans talking betting all day — every day! JOIN THE DISCORD NOW AND QUALIFY FOR PRIZES & BETTING SWAG!
---