The ALCS will resume on Friday after a travel day to transition from Boston to Houston. The Astros currently hold a 3-2 advantage in the series, meaning they are one win away from the World Series.
After splitting with the Red Sox at Minute Maid Park, the Astros took two of three wins from Boston at Fenway. The club has set itself up well to close out Boston over the next two days. However, do not count out the Red Sox as they have won two straight games many times this season.
The first pitch from Houston on Friday is scheduled for 8:08 PM ET. Nathan Eovaldi will pitch for the Red Sox against Luis Garcia of the Astros.
ALCS Game 6: In Playoff Nate We Trust
Nathan Eovaldi entered game four as a reliever, and he ended up earning the loss. He did not receive any favors from the home plate umpire in his brief time on the bump, but this is what happens in baseball.
Eovaldi went 0.2 innings and gave up four runs on two hits. However, the pitcher was topping 100 mph with his fastball and showed brief signs of dominance.
In game two of the series, Eovaldi started and went 5.1 innings. The right-hander got the job done throughout the start, allowing three runs on five hits. His performance corresponded with two grand slams from Boston's offense, allowing the team to prevail 9-5.
Luis Garcia will throw for the Astros, and he did not have a positive outing in his first start of the ALCS. Garcia went one inning in game two, giving up five runs on two hits. He walked three batters in his stint and struggled to locate many of his pitches.
Both bullpens have been worked throughout the ALCS, so the starter that goes deeper into the game will give their team an undeniable advantage. Since this is a must-win contest for the Red Sox, expect Alex Cora to pull out all the stops to force game seven.
ALCS Game 7: High Leverage At-Bats
The Astros have won two straight games because of their ability to perform in high-leverage situations. In game four, Boston had plenty of chances to score runs but could not capitalize.
The moment that stands out was when Christian Arroyo was stranded at third in the fourth frame after a one-out triple. Boston cannot squander these opportunities if they want to contend for the World Series.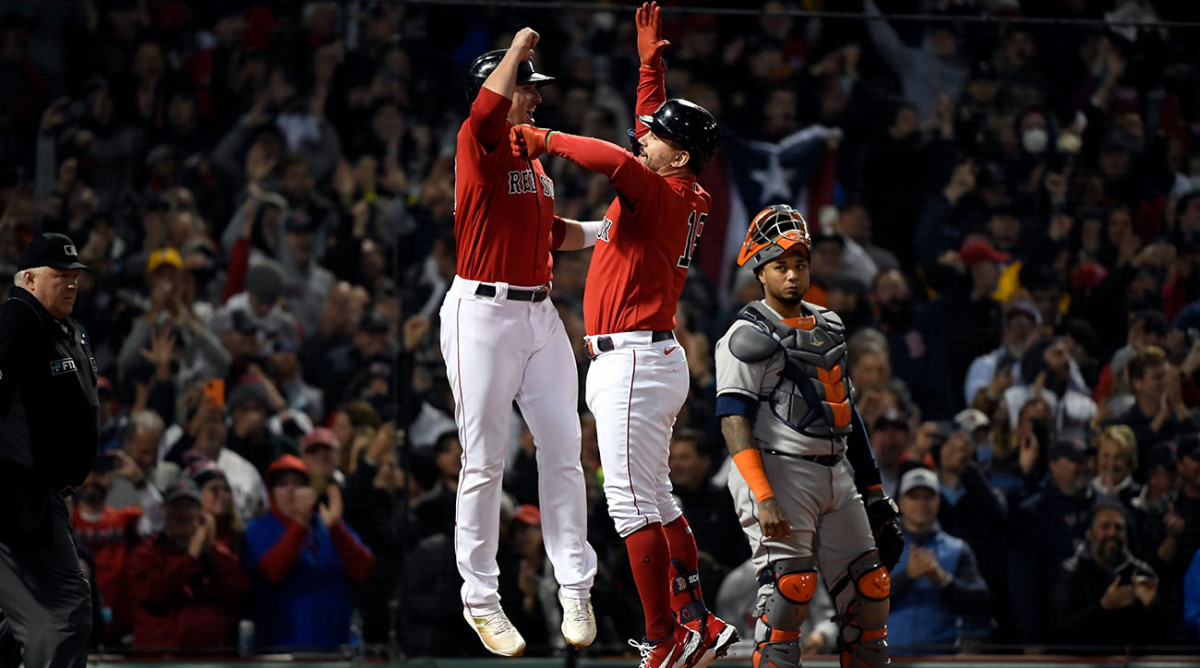 Boston was 0-13 with RISP in games four and five, and they left 11 runners on base. In their two wins, the team batted .353 with RISP and hit three grand slams. This was a heroic effort at the plate, and it's not necessary to win, but stagnancy is not a victorious recipe.
Houston's past two wins have corresponded with limited offensive production from the Red Sox. For Boston to win, the formula is straightforward. They need to resort back to their offensive performances from games two and three.
If the Red Sox hit, there will be a game seven in the ALCS. If Boston does not show up at the plate, Houston will be representing the American League in the World Series.
---
Join our Discord
to leave a question or comment regarding this article. We have sports fans talking betting all day — every day! JOIN THE DISCORD NOW AND QUALIFY FOR PRIZES & BETTING SWAG!
---